Virtual Discussion & Debate: Earn & Learn
August 12, 2021 @ 1:00 pm

-

2:30 pm

EDT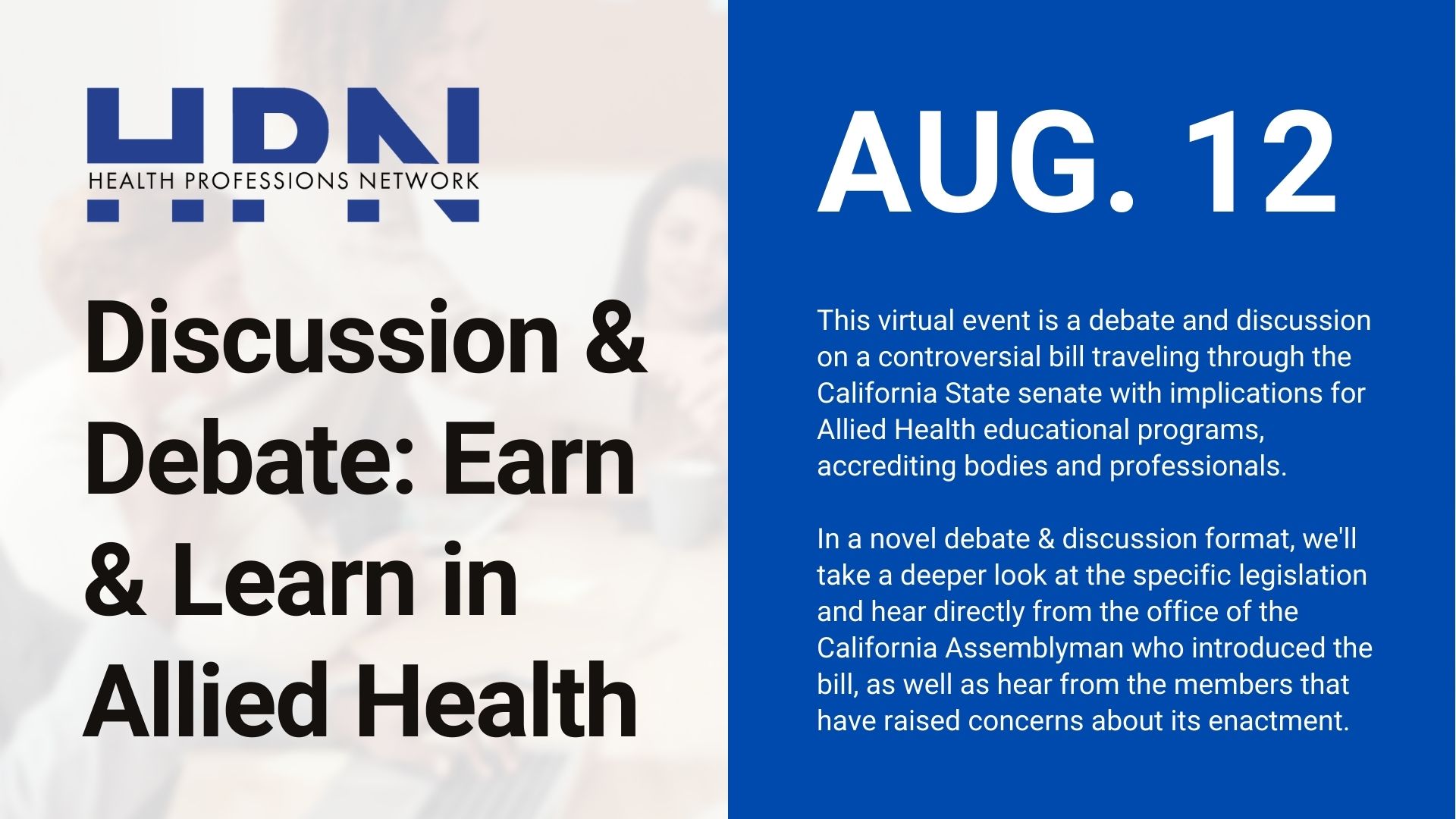 Join us for an engaging debate and discussion on proposed legislation to address an Allied Health workforce shortage in California!
Our next Health Professions Network virtual event is a debate and discussion on a controversial bill traveling through the California State senate with implications for Allied Health educational programs, accrediting bodies and professionals.
As California is large and influential, this discussion will also speak to larger implications of the proposed approach to address workforce allied health workforce shortages which might ultimately be taken up as a model for other States.
In a novel debate & discussion format, we'll take a deeper look at the specific legislation and hear directly from the office of the California Assemblyman who introduced the bill, as well as hear from the organizations that have raised concerns about its enactment.
Health Professions Network members may attend this virtual event absolutely free, while non-members are invited to attend for a registration fee of $20 per attendee. Members and non-members may register with the form, below.
Background on California AB 1273
Recent legislative action in California may impact HPN's members and allied health professionals and educational programs, broadly. The proposed bill -- AB1273 -- supports the development of "earn and learn" programs in the state of California, which would allow students in the allied health professions to be paid for their labor during their clinical education. The bill was developed in response to projections of a severe healthcare workforce shortage in the near future across the state.
The Society for Nuclear Medicine and Molecular Imaging (SNMMI) and the Nuclear Medicine Technology Certification Board (NMTCB), two HPN member organizations, reached out to HPN leadership, voicing concerns that the apprenticeship model facilitated by AB1273 would cause problems for X-ray and NMT Technologist educational programs, whose education accreditation standards prohibit the payment of students. You can read a letter from the NMTCB, here, and a letter from the SNMMI, here.
This would in turn raise questions about what accreditation bodies could serve as programmatic accreditors in the state of California, thereby impacting the number of accredited programs, and ultimately the number of students who could sit for their national certification as Nuclear Med Technologists, which may pose the risk of  exacerbating the forecasted workforce shortage.
As of June 28, the bill was re-referred to the California Senate Committee on Appropriations and will be discussed at the Senate Appropriations meeting on Thursday, July 15.  The next day, July 16, the California senate will adjourn for summer recess and our experts think it unlikely that a vote to pass the bill will occur before the Senate returns on August 16.

Register, today!
[caldera_form id="CF60ec936a23707"]