HPN Fall 2022
November 9, 2022 @ 8:00 am

-

November 11, 2022 @ 5:00 pm

EST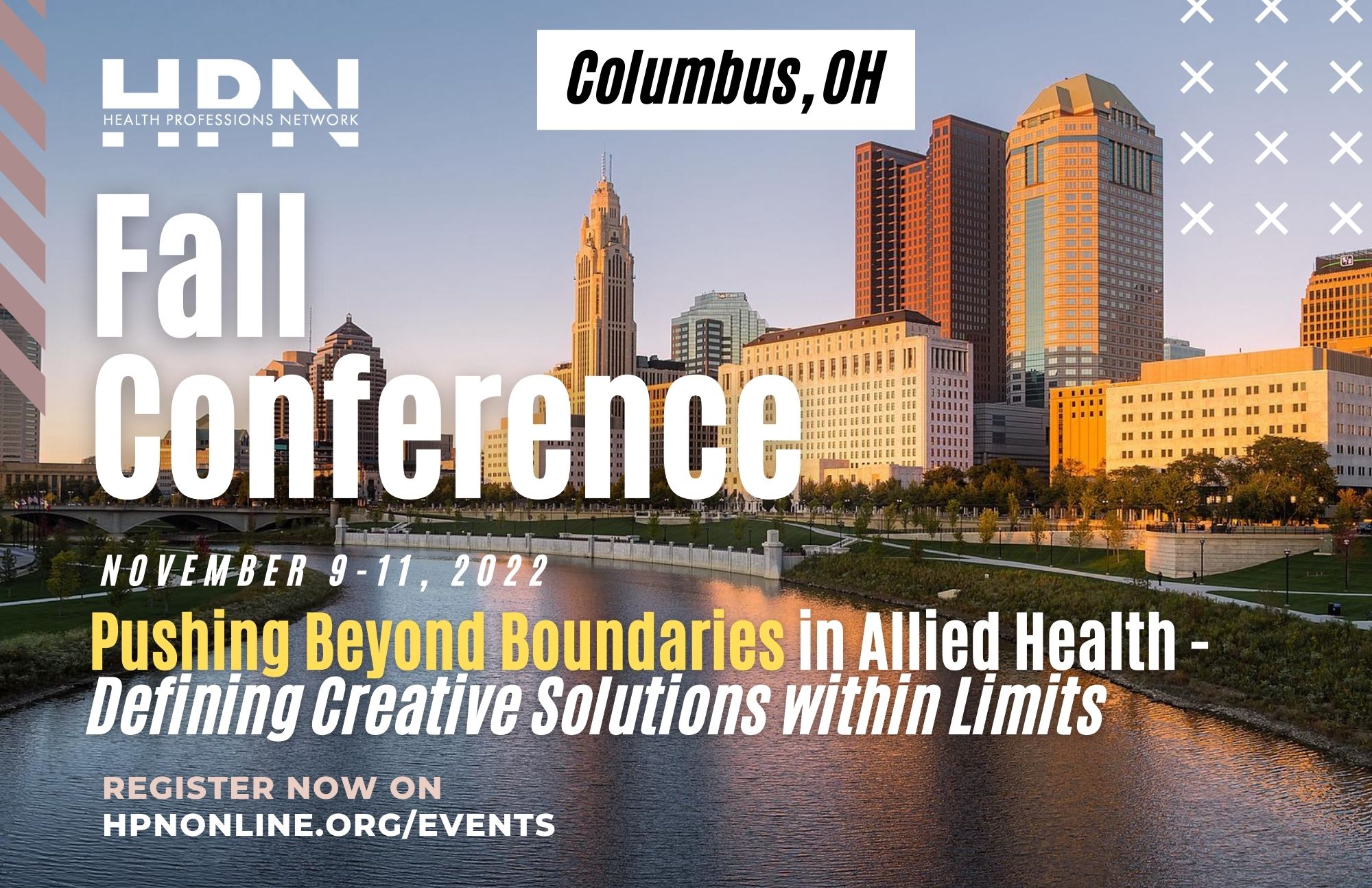 Our Theme: Pushing Beyond Boundaries - Defining Creative Solutions within Limits
[There's] no creativity without boundaries. If you're gonna write a sonnet, it's 14 lines, so it's solving the problem within the container.
- Lorne Michaels
What does it really mean "to inquire and to create on the basis of the resources available to you," and how can allied health professionals use and challenge the various boundaries encapsulating their work to creatively achieve specific goals? Taking a systems perspective of the allied health space, attendees at HPN's Annual Fall Meeting 2022 will engage in discussions, presentations, and interactive workshops designed to capitalize on the "collective competence" of this incredibly diverse sector.
Questions & Topics we will explore will include but are not limited to:
Constraints – What are our common problems? What legislative issues are coming to the fore? How should we approach funding & partnerships? What potential efficiencies and improvements might there be for our organizations?
Risk & Failure Tolerance – What are absolutely unacceptable outcomes? What are your hypotheses about how specific changes will impact your organization? How many iterations should we expect when engaged in change?
Experimentation – How can we reasonably engage with new ideas and embrace change? What traditions or expectations impede our ability to do work? What data should we be collecting and why?
Planning for the Future – What does an effective succession plan require us to know? How can we grow not only our organization, but the allied health workforce? What initiatives could we begin planning for today which could have lasting impact?
Program details to be updated as we near the event.
Together, Again, in Exciting Columbus, OH
HPN leadership is so excited to be together, again—here are all the relevant protocols and details:
COVID Safety Requirements
To join us in-person, we will require either:
Proof of COVID vaccination
OR, a negative PCR test within 72 hours of November 9.
Complimentary Room Nights
Our hosts, Experience Columbus, are graciously providing our first 40 live registrants with complimentary accommodation at one of our partner hotels, and a full schedule of opportunities to network and familiarize ourselves with beautiful Columbus, Ohio!
Register for HPN Fall 2022
[caldera_form id="CF62ebcf658da2e"]