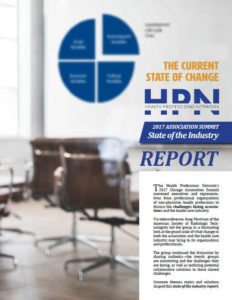 The Current State of Change
The Health Professions Network's 2017 Chicago Association Summit convened executives and representatives from professional organizations of non-physician health professions to discuss the challenges facing associations and the health care industry.
Via teleconference, Greg Morrison of the American Society of Radiologic Technologists led the group in a fascinating look at the grand scale of what change in both the association and the health care industry may bring to its organizations and professionals.
The group continued the discussion by sharing outlooks—the trends and challenges groups are monitoring and facing, as well as outlining potential collaborative solutions to these shared challenges. Common themes, topics and solutions shaped this report.
---
Next Steps: Alexandria
Join the Health Professions Network for its Fall Meeting September 6-8 in beautiful Alexandria, Virginia—just across the Potomac River from our nation's capitol and an 8 minute drive from Reagan National Airport.
On Thursday, September 7, we'll have time for business meetings where we will be continuing the discussions started at our Chicago Summit (and summarized in this report), with a focus on the next steps for the association community.
Our educational sessions on Friday, September 8 will focus on the topic of customer service—how your association, or health care, can harness the power of strong customer service to retain members, or improve patient satisfaction.
Health Professions Network meetings regularly convene regional experts and industry leaders to present quality educational sessions on topics at the forefront of the rapid change in health care.
Our speaker agenda will soon be confirmed. The first 40 registrants are entitled to complimentary hotel accommodation in Alexandria with our host partners!