Date/Time
Date(s) - 09/26/2018 - 09/28/2018
All Day
Location
Greater Fort Lauderdale Convention Center
Categories
Artificial Intelligence & Technology in Healthcare
At the Health Professions Network's Fall Meeting in Fort Lauderdale, Florida, we'll be exploring the ways in which technology is changing healthcare, for patients and professionals alike. We'll have expert sessions taking a deeper look at the impact of technology in healthcare from a number of angles—the persistent cloud of 'big data,' artificial intelligence, telemedicine, and more, with a lens on how this rapid change might impact professions.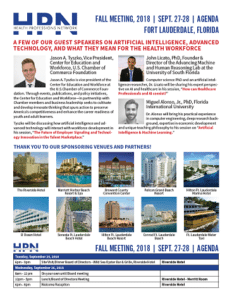 Sun, Sessions & Our Keynote
Only the best sessions could keep you from the allure of Fort Lauderdale's beaches, even in September. The good news, we're really excited about our program for our Fall 2018 meeting. In a slight change of format, we'll keeping energy high by hosting expert sessions on both Thursday and Friday mornings, leaving the afternoons for fun and sun with tours and more from the Greater Fort Lauderdale Convention & Visitors Bureau!
We're also excited to announce a keynote session from Jason Tyszko, the Vice President of the Center for Education and Workforce of the U.S. Chamber of Commerce Foundation. Not only does Tyszko have deep experience in workforce iniaitives, but he also has a background of innovative technology projects affecting education and workforce development.
Plan to join the Health Professions Network this Fall. The sessions and discussions we will have in Fort Lauderdale will certainly have practical takeaways for you and your work, and likely the future of your profession, as well.
PRELIMINARY SCHEDULE
Wed, Sept 26 – HPN's Board of Directors meets for lunch and an afternoon meeting. All attendees join HPN and the Greater Fort Lauderdale CVB for an opening reception in the evening.
Thurs, Sept 27 – In the morning, all attendees join HPN for several expert sessions on TECHNOLOGY in healthcare. In the afternoon, Greater Fort Lauderdale CVB treats attendees to a tour of the city and its incredible attractions.
Fri, Sept 28 – In the morning, expert sessions will continue. HPN will also meet in the afternoon for HPN business, addressing on-going collaborative efforts of the organization. Again, the CVB will treat attendees to tour more partner organizations that evening.
A full agenda will be provided ahead of the conference!
Participate with an HPN Talk!
Don't forget—you're invited to participate, as well! In addition to our usual expert sessions, we're asking members and guests to present for 5-15 minutes answering a conceptual or practical question and sharing practical knowledge and insight into customer service and association management, all in bite-sized pieces. Think HPN meets TED!
What benefits stand to be gained by increased use of technology in healthcare? What new obstacles have already, or will likely present themselves, and how should they be overcome? In what ways do you see technology changing the way we work in the years ahead?
If you're an HPN member, this is probably a topic crucial to your work—something we all need to pay attention to in order to support our health professionals.
Learn more, or
Fort Lauderdale, Florida
We're excited to be hosted by sunny Fort Lauderdale, Florida! The Greater Fort Lauderdale area of Broward County is a popular tourist destination that also boasts a LEED-certified convention center with 600,000 square feet of space facing the intracoastal waterway, offering panoramic water views through a soaring glass wall. The convention center is only a three-mile drive from Fort Lauderdale-Hollywood International Airport.
A highly anticipated $750 million convention center expansion project plans to add even more meeting space and create a connected convention center district complete with a waterfront plaza.
Plus, just minutes from the Fort Lauderdale beach is the Riverwalk Arts and Entertainment District downtown, home to a myriad cultural attractions, shops, parks and restaurants. We hope to see you there!
IMPORTANT: Complimentary Hotel Accommodation
Only the first 40 registrants are entitled to complimentary hotel accommodation. We understand that the availability of complimentary hotel accommodation may affect your decision to join us in Fort Lauderdale and will strive to update this form as soon as we have received 40 registrations. 
---
Register now.
Registration is currently closed for this event.
Technical difficulties? Contact Kurt@hpnonline.org.